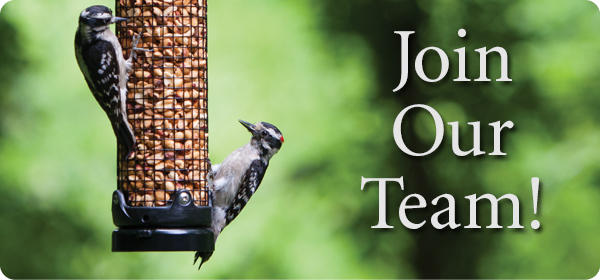 Are you our next great employee?
The difference between Wild Birds Unlimited and other retailers goes far beyond what we sell. It's who we are. Enthusiasm, professionalism, informed advice and superior customer service are the hallmarks of our staff.
We are seeking a Customer Associate with great retail and customer service skills. Working at your locally-owned Wild Birds Unlimited store is an opportunity to support and educate our friendly customers about birds and nature.
Our Customer Associates work with other staff, including the owner, to bring to life the store's mission – "We Bring People and Nature Together®…And We Do It With Excellence!" To that end, we provide training with regard to backyard bird feeding, bird watching and product knowledge.
Requirements:
• Previous retail experience preferred
• Great communication and customer service skills a must
• Attention to detail, positive attitude and willingness to continually learn and improve
• Ability to lift and carry 20-40 lbs. for our customers – a foundation of our service!
• Ability to work in a fast-paced setting and spend extended periods of time on your feet
• Wild bird feeding experience is not required, but it is a plus. Interest in nature and wildlife is a requirement
• We are open 6 days a week. Associates are expected to be available on weekends and during busy holiday times
• Computer skills; ability to learn and accurately operate our point-of-sale system
Benefits:
• Competitive wage with potential for increase after a probationary period
• Low-stress, clean and bright environment
• Employee discount
• No evenings
• Company-provided logo shirts for work
• Satisfaction in helping people connect to nature
• Potential for transition to a managerial role
This is a fun job for someone with retail experience who enjoys bird watching, and is interested in helping others and learning more about one of the fastest growing hobbies in the U.S.
Interested? Click link below to download and complete our job application. Please return completed application to Wild Birds Unlimited of Beaufort 2139 Boundary St. Beaufort, SC